Reports
All reports are organized and managed with complete tracking information for easy access
See your data in STATLIA MATRIX.
All Reports Are Organized And Labeled For Easy Access
As anyone who has had to gather data together from individual reports knows, collecting data can be a time-consuming task.  STATLIA MATRIX reports are automatically created, organized, tracked and saved so they are always immediately available when you need them.  All reports are sequentially numbered and the tracking information for each report is listed with the report files so locating any report is easy. 
There are seven types of reports that, collectively, contain all of the data and information you need for your laboratory, for your clients, and for regulatory traceability.   These reports include Assay Runs (customizable), Performance Analysis (test behavior), Quality Assurance (test behavior over time), Physical and Computational Settings used for each assay, and LIM Results and eSignature Assays waiting for review.
The data in each report are arranged in convenient tables and most reports are further organized in tabbed worksheets in the spreadsheet.  The Performance Analysis and Quality Assurance reports list all of the stored assay data used to compute the statistical analysis generated.   You can use these spreadsheet tables to perform additional analysis to determine tolerance ranges, result distribution, or other studies specific for your laboratory, clients, or reporting agencies.
​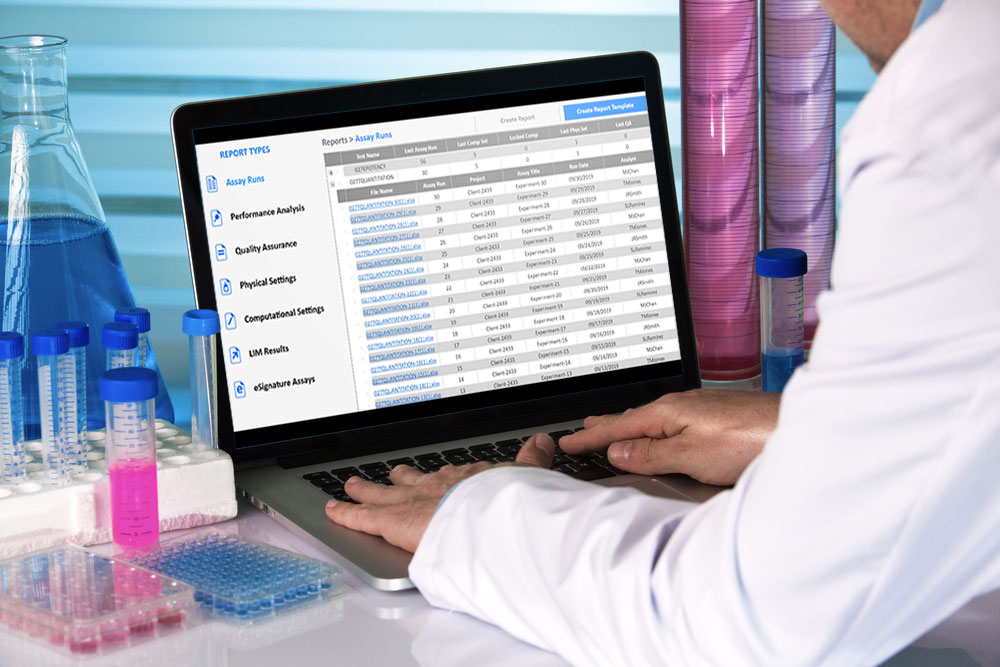 All Reports Are Organized by Test Method and Sequentially Numbered for Tracking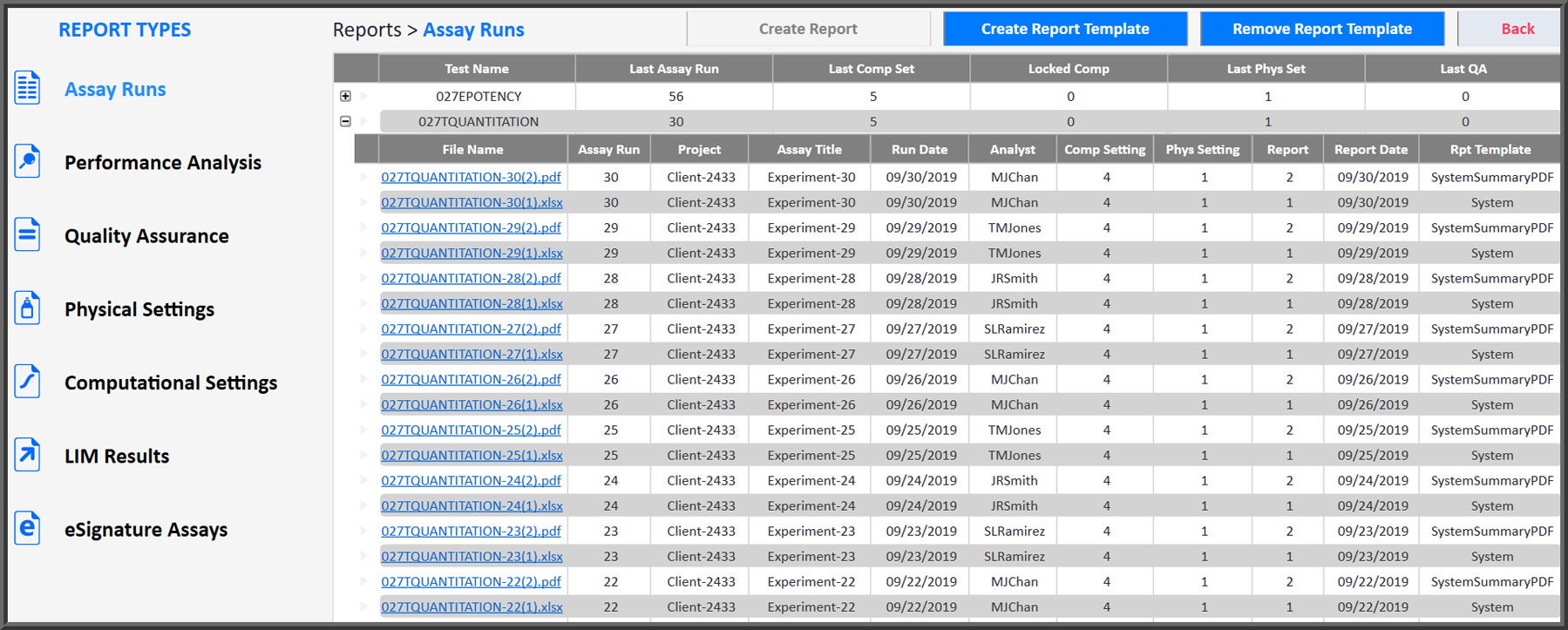 Assay Runs reports are customizable. Generate detailed reports for review and summary reports for clients.
Performance Analysis reports show the behavior and statistical analysis of a pool of previously run assays.
Quality Assurance reports show the behavior of a test method over time.
Physical Settings reports list the structural settings of an assay, such as number of replicates, dilution concentrations, control specimens and reagents.
Computational Settings reports list the settings used to process an assay, such as data reduction type, curve fit model, QC metric ranges, and report templates.
LIM Results from assays that are waiting for review before export to the LIM system.
eSignature Assays are waiting for one or two signatures accepting or rejecting an assay's results.
Easy To Create Your Own Assay Report Template

Preset detailed and summary templates are included, and these can be easily modified by the laboratory to make new templates.
Each data reduction technology has tables and data fields specific for that type of assay. Tables without data are not printed in the assay report.
Tables within each data reduction type can be included or excluded in a template
Individual data fields are specific for each table and can be chosen and arranged to meet your requirements.
Formats can be Excel, HTML, or PDF. PDF formats are paginated for printer output.
Detailed captions for each graph can be included or excluded in the report.
Customizable Assay Report Tables Are Color Coded For Easy Reading
Customizable Assay Reports templates only include the tables and data fields that you want to include. Tables can include informative metrics for a detailed review or just summary metrics for clients. Multiple report templates can be created for each assay.
All of the reports in STATLIA MATRIX color code the data by the type of specimen or the type of data for easy identification.
Assay reports can be Excel, HTML, or PDF. PDF reports can be automatically printed along with the detector raw data file.
Additional assay reports can be created using a different template at any time.
A preset assay report template is included that lists all of the database stored data generated for that assay in a convenient worksheet tabbed Excel spreadsheet.
There are many convenient features in the reports, such as the colored left-justified dilutions offsetting the right-justified replicates in the sample table above.