Enterprise Workflow Management
STATLIA MATRIX streamlines and manages your assay workflow, data management, and regulatory compliance as only an enterprise software system can, allowing you to focus on running your assays.
See your data in STATLIA MATRIX.
SQL Database Structure Is Key to Managing Assay Data and Workflow
STATLIA MATRIX is structured around a robust Microsoft SQL Server database that secures, organizes, and provides easy access to all of your assays, raw data, assay data, reports, approvals, and more.
Only one software system is needed to standardize all immunoassay, potency bioassay, and immunogenicity testing technologies.
Only one software system is needed for all of your detector instruments.
Only one software system to validate for all technologies and all detector instruments – with the fully automated STATLIA MATRIX IQ/OQ Validation Package.
Only one software system needed to enable your GxP bioanalytical laboratory to have complete regulatory compliance with 21 CFR Part 11.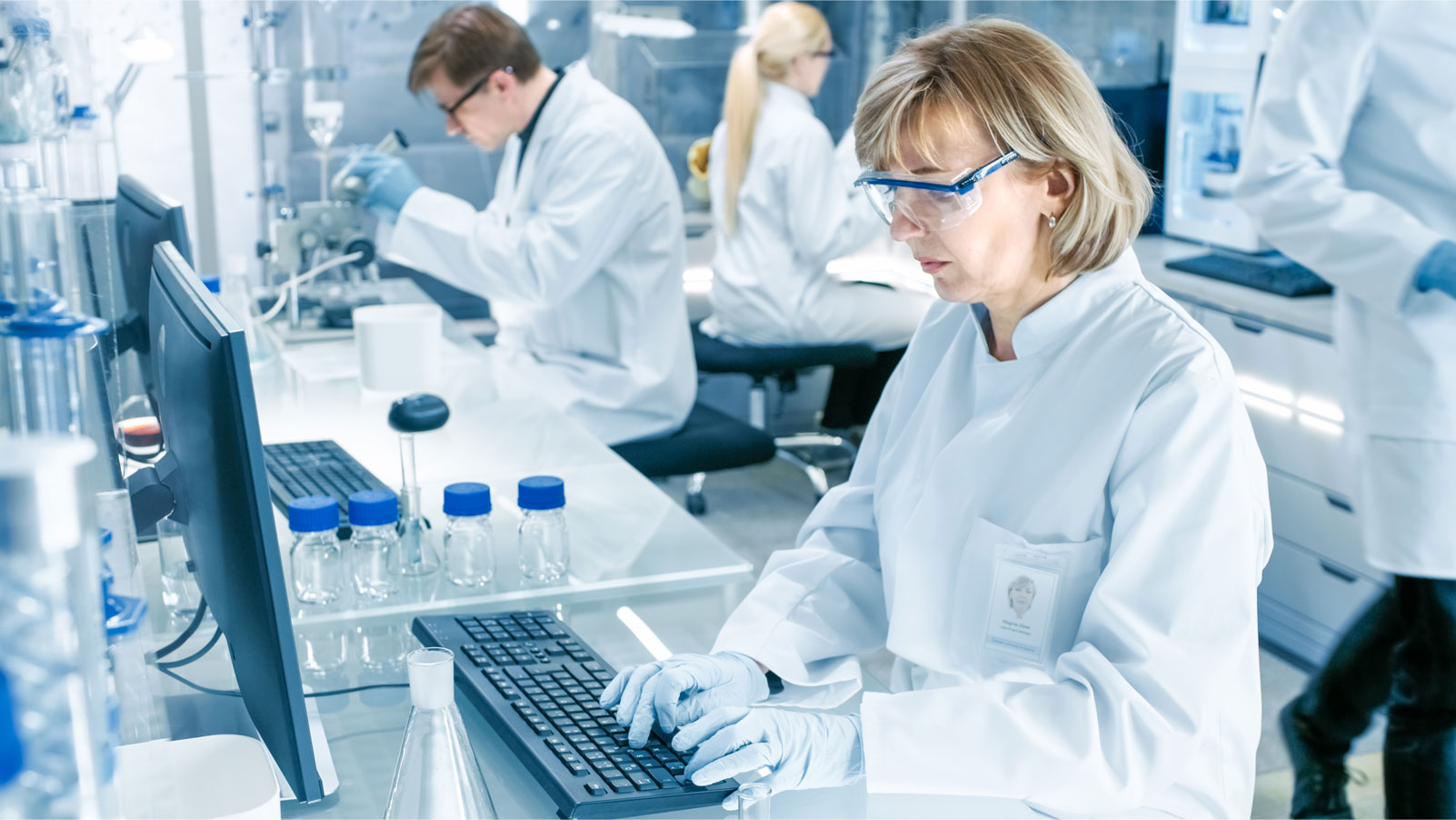 STATLIA MATRIX Centralizes, Standardizes, and Streamlines Laboratory Workflow
GxP Enterprise System Structured Around Secure Microsoft SQL Server Database
Standardize all of your immunoassay, potency bioassay, and immunogenicity testing technologies to a single system that utilizes the most advanced analysis and workflow management in the industry.
Install on a client-server local area network (LAN), a cloud with virtual desktop interfaces (VDIs), or remote access VDIs (such as CITRIX).
All detector instrument interfaces from all testing technologies are easily installed and ready to collect data.
Add as many computer stations or VDIs as your laboratory needs, and easily add additional stations or VDIs as your laboratory needs grow.
Users can be assigned to individual security groups with specified permissions, and users can be added or changed.
LIM systems can be interfaced so worklists are downloaded and results are uploaded with project, client and other tracking information easily defined.
STATLIA MATRIX conforms to GAMP 5 and enables 21 CFR Part 11 regulatory compliance for your GxP bioanalytical laboratory.
Automated IQ/OQ Validation Package available for complete validation of system and individual detector instruments.
All Your Detectors For All Your Technologies Connected To A Single Advanced System
Easily Interface To Any LIM System
Customize Your Worklists to Import Tracking ID for Each Unknown
Establish as many tracking fields for unknowns such as Client ID as required (Project is a defined field inside assays).
Worklist files are sent from a LIM system or other sources as .csv or .txt files. Worklists can also be copied and pasted directly into the assay setup screen.
Tracking data for each unknown is stored in the database and can be included in LIM Results files and other reports.
Customize One or More LIM Results File Templates For Export To LIM System
You can create multiple LIM Results File templates specific for each type of testing technology used in your laboratory.
You can select the specific result field, or fields, appropriate for each test in each LIM Result File Template.
LIM Result File Templates can include unknown tracking fields.
Unknown results can be automatically suppressed if the unknown fails its QC Acceptance.
Set Your Assay Approval Requirements
In the settings for each test, you can specify whether or not to export a LIM Results file, and the LIM Results template to use.
You can require approval from any user with appropriate security group permissions or from specified eSignatories.
All decisions to approve or reject LIM Results exports are recorded in the Event Log.
Integrated Control And Reagent Inventory


Track Controls and Reagents Automatically
The software's Inventory function saves each assay control lot and reagent lot in the database and tracks them with the assays that used them.
Individual controls lots are inventoried and tracked separately from reagents so that confidence limits and other metric ranges for each control lot can be computed individually for each lot.
Analysts are notified when a control or reagent has expired before they are used in an assay.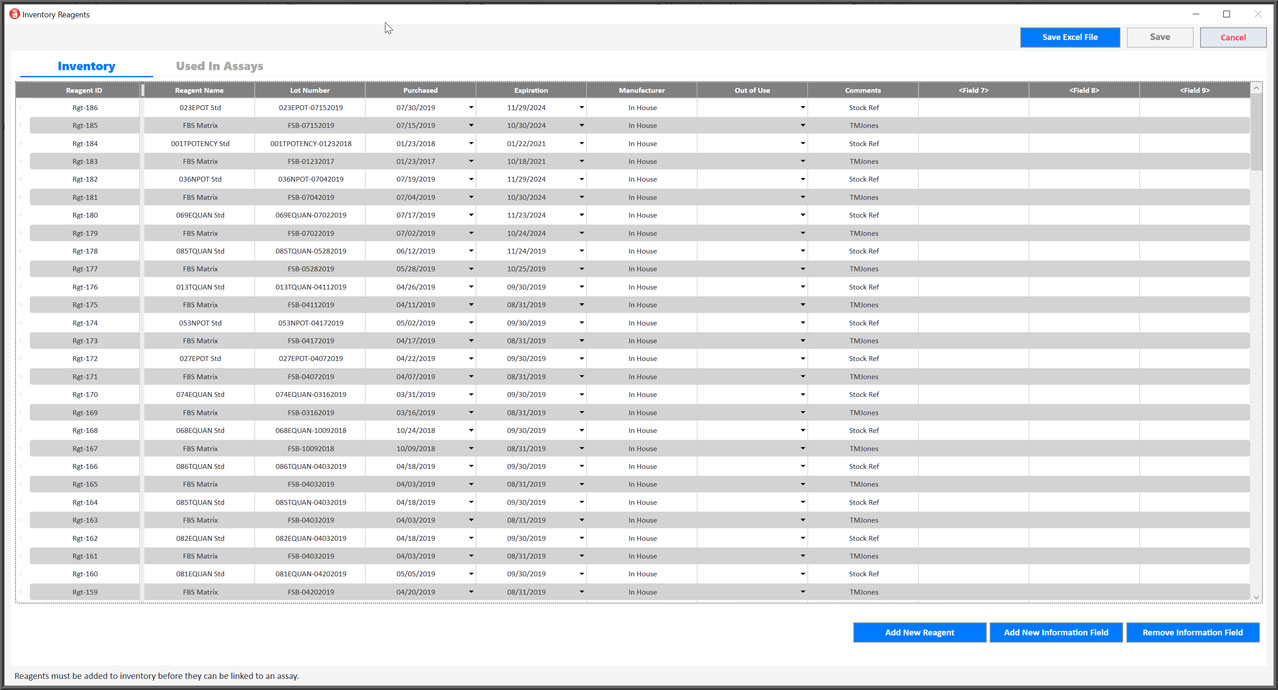 Manage Controls and Reagents with Inventory Feature
Each control lot and reagent lot is tracked with a unique ID number, allowing different lots to use the same control or reagent name in the assay.
New control lots and reagent lots can be entered from the Inventory button on the main screen or directly in the assay setup screen while you are setting up the assay.
Additional Information fields can be specified and tracked for your control and reagent lots.
Analysts are notified when a control or reagent has expired before they are used in an assay.
Control and reagent inventory can be exported to an Excel spreadsheet file.
Track Controls and Reagents with their Assays
Identifying which assays used a control or reagent lot makes it easy to troubleshoot potential issues with that lot.
Quality Assurance comparisons can be run with assays that used a specific reagent lot to compare the performance of that lot to the original assay metrics.
Control and reagent assay tracking data can be exported to an Excel spreadsheet file.
Report Structure Provides Secure, Easy Access
Software Organizes All Reports In One Managed Structure
All reports are secured, sequentially numbered and organized by test for quick, easy access at any time.  Reports include: Assay (customizable), Performance Analysis (test behavior), Quality Assurance (test behavior over time), Physical and Computational Settings used for each assay, and LIM Results and eSignature assays waiting for review.